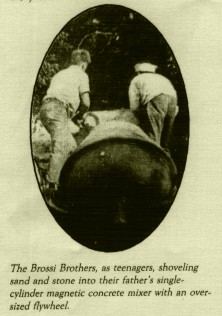 "I want to see nothing but asses and elbows..."
William B. Brossi
William Brossi was born in Bardi, a small mountain village in the province of Parma, Italy. When he was eight years old his parents removed him from school to help on the family farm. At the age of 14 he was sent to England to work, returning to Italy four years later to serve in World War I. William immigrated to the United States when he was just 24 years old.

Four years after passing through customs at Ellis Island, with only a second-grade education, he started a business in Wellesley, Massachusetts, as a general contractor. In those early days William's only vehicle was a bicycle, and he carried his tools strapped on his back.

In Wellesley he met his future bride, Jennie Mortarelli, who coincidentally was born in Villa Zani, a tiny village in the valley on the other side of the mountain range from Bardi, William's hometown. They were wed at the beginning of the Depression, and began working together in pursuit of the American Dream. During the Depression years they tried to find work for as many fellow
immigrants as possible.

Besides doing the books for her husband, canning produce from their garden, and working outside the home, Jennie gave birth to three children - Joseph, David, and Theresa. Joe and David recall that the "basic training" their Dad put them through, as teenagers, was tougher than infantry training in the Army! They mixed mortar and concrete by hand, carrying the hod up the never-ending oak ladder to supply their father - who seemed to devour both bricks and mortar immediately.

After military service the brothers agreed to continue and expand their father's business. With a total of $4,500, they used $500 as down payment on a truck and $3,000 to buy their first house lot. Surveying was originally done by John Ciarcia, a classmate of David's at Wentworth Institute, who later married Theresa Brossi.

Much of the credit for surviving those early years goes to their beloved mother, who passed away in 1982. She provided constant encouragement and a good dose of wisdom and cheerfulness. The brothers would joke with their mother that, with her sincerity and warmth, she sold more homes over the phone than all the other sales people combined.

Over the years the Brossi Brothers have seen Framingham change from a farming community to the bustling hub of the Metro West area. They are proud of the structures they have added to the community. Each project - from a single home to a shopping center-is carefully nurtured and supervised from design to occupancy.

Today Brossi Brothers has a full spectrum of real estate holdings, all of which the firm designed and built and now meticulously manages. Its unusual attention to detail is expressed at Old Path Village, which the company built adjacent to Old Connecticut Path in Framingham. Realizing that the area was rich in history, the brothers researched its past and erected a bronze historic marker on the site. Retail and office space was built incorporating pitched roofs, brick sidewalks, chimneys, and post lanterns originally designed by Paul Revere and used on Beacon Hill in Boston.

And now the third generation of Brossi's have joined the business creating two new companies - the David A. Brossi Limited Partnership and the Joseph S. Brossi Limited Partnership. All three businesses are out of the same offices at 971 Concord Street in Framingham.
With tradition rooted in the past and a strong commitment to the future, the Brossi's are ready for the next millennium!